Looks as good as it tastes
Grazing tables are the perfect option for entertaining and making a statement!
Featuring a beautiful array of delicious, locally inspired goods for the perfect party focal point.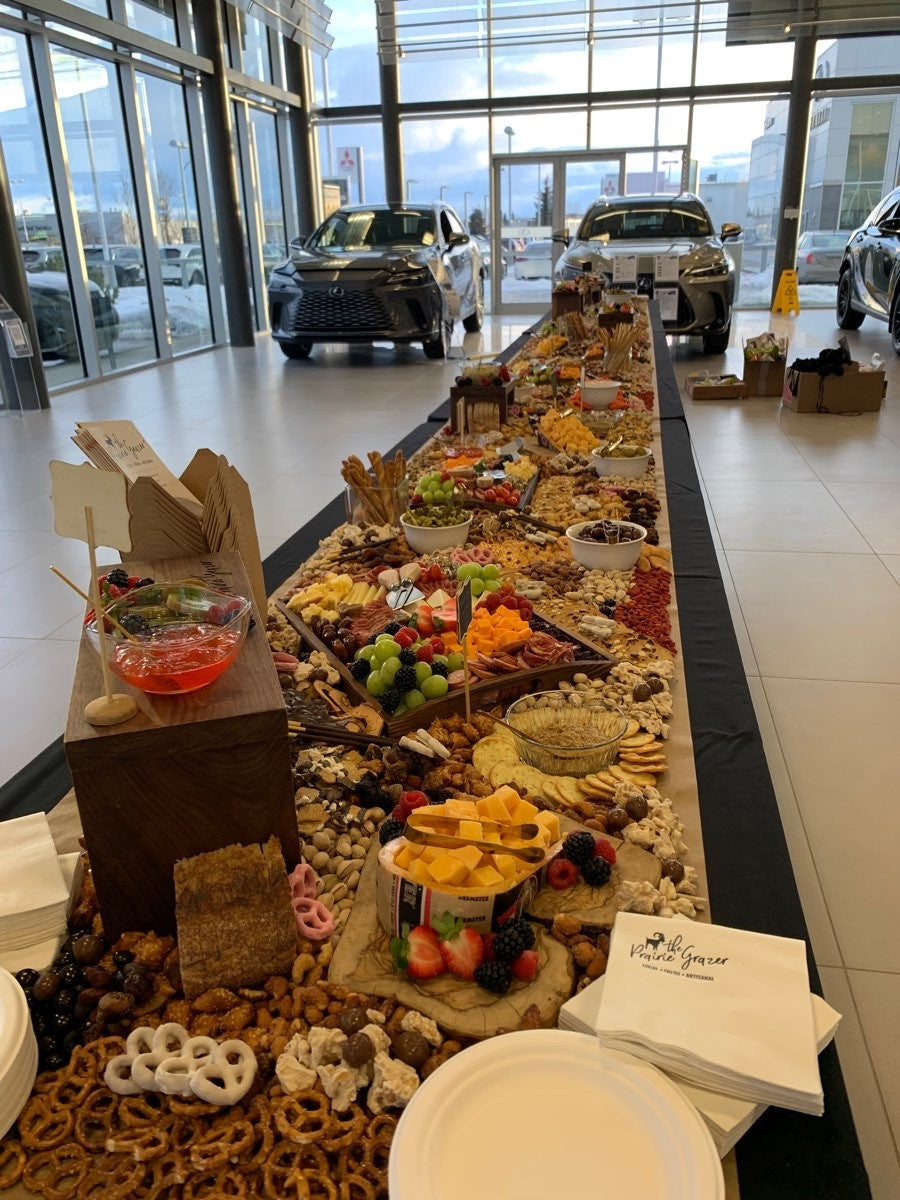 Be the host with the most
Grazing tables are the hit of any event, and the best part is that our grazing specialists take care of all the work for you. You just have to sit back and look good.

Getting started
Once you provide us with the location and time for your event, our grazing specialists will arrive approximately 1 hour prior to your event and come back the next day to pick up our supplies. Our set-up will take approximately 30 -45 minutes, depending on the size of table.

All grazing tables will feature an assortment of meats and cheeses, artisan bread and crackers, preserves, dips, fresh and dried fruit, nuts and sweet treats!
Pricing for a grazing table is as follows:
10-15 grazers: $375 + tax
16-20 grazers: $480 + tax
21-25 grazers: $600 + tax
26-30 grazers: $700 + tax
31-35 grazers: $800 + tax
36-40 grazers: $900 + tax
41-45 grazers: $1000 + tax
46-50 grazers: $1100 + tax
For parties larger than 50 grazers, please contact us for pricing.
The cost includes delivery, set-up, and pickup of items within Saskatoon. Locations outside of Saskatoon will have a km surcharge applied to the final invoice.
Event host is responsible for providing a table for setup and ensuring all dishes/boards are rinsed before placing back in the provided bin.
To book, we simply require a 25% deposit with final numbers and final balance owing 1 week prior to your event! Payment can be made by e-transfer or credit card

Available Add-Ons:

Add Extra Meat ($3/pp)
Add Extra Cheese ($3/pp)
Add-On Desserts:
Choose from a variety of locally made desserts from Macy Bakes and Delectable Cakes!
Mini Cupcakes: $2.25/pp
Chocolate Dipped Pretzel Sticks: $1.50/pp
Shooter Dessert Cups: $3/pp
Mini Macarons: $1.50/pp
*Add-on desserts must be ordered at least one week in advance of event date.
There will be a $3/pp charge for any dietary restrictions. Please note that if there are severe allergies in your party, we recommend an individual artisan box for those guests. Individual artisan boxes can be purchased for $20/box.

Fill out the form below to start planning your perfect grazing party! Please provide us with the date, time and location of your event as well as the number of guests you will have at your event!
Contact us to plan your grazing party!
To get started on your grazing party, or if you have any questions, send us an email and we'll get back to you shortly.